Mopar Parts Giant
We have what you need for the best prices and quick shipping
Looking for the best customer service, unbeatable prices and fast shipping? Well you have come to the right place. At MoparPartsGiant, we have been providing world class Mopar products and services to our customers for over a decade. We offer OEM Mopar parts for the most affordable prices that are generally shipped within three business days from our authorized region based Chrysler dealers.

High Quality Customer Service
As a family owned and operated business, you can be sure of receiving the highest quality personal service on the web. Our staff is the most experienced and will be happy in assisting you with any questions you may have. We will show you that you are the most important customer.

Find the OEM parts you need easily
Our experienced staff combined with the newest technology makes it easier to identify the correct parts for your car. Genuine OEM Chrysler parts, Jeep parts , Ram parts and Dodge parts and accessories have never been easier to buy online.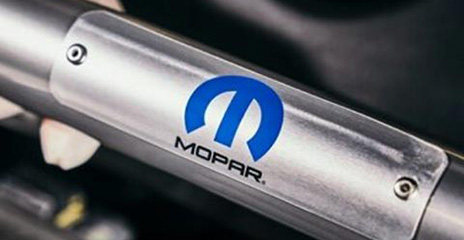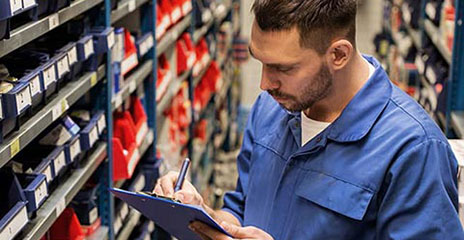 We're sure you would agree that using the Original Equipment replacement parts is the best way to maintain the quality and performance of your Mopar. We are the easiest and most economical way of providing you with that quality.
With decades of success and experience in this industry, let us exceed your expectations with:
Part Fitment Verification
What Our Customers Say
"First time user and my experience was super. It has a great lookup system with very clear diagrams and pictures. I had no problem finding what I needed and the price was excellent. I will definitely tell my friends about this company."
"I tried to order the part through our local Dodge Dealership and they said it was 4 weeks out. I found the part # on MoparPartsGiant.com and placed the order. But I also called to verify that the part was in stock and it was. I will have the part in less than 2 weeks."
"Searched and searched for oem mopar parts and besides checking at the dealer, Mopar parts giant had it ALL! Matched up part numbers and found exactly what I needed and cheaper than the dealer!! Recieved it in days and not weeks!! This is the only site I use for Mopar OEM parts"
Excellent Seller Ratings
4.94/5 of 2109 reviews
We have earned a reputation for honesty, integrity, and value. With thousands of 5-Star reviews we are the leading online retailer of Mopar parts in the USA.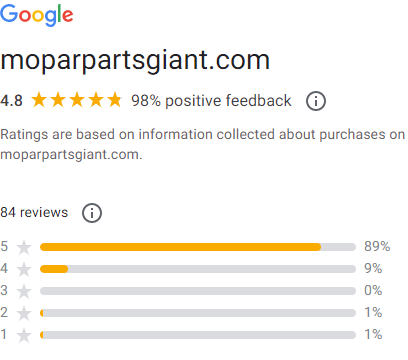 Location & Contact
MoparPartsGiant.com
Genuine Parts Deal, Inc.
5151 E Broadway Blvd. Suite 1600, Tucson, AZ, 85711
Start your shopping at the excellent Mopar parts online store, save more in each parts and every time! Shop for Mopar Parts