Shop Genuine Chrysler Parts with MoparPartsGiant.com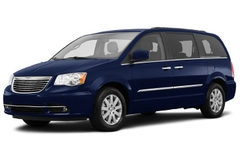 Chrysler is an iconic American auto brand, for nearly a century. Creating iconic vehicles such as the Plymouth and DeSoto. In 1998 Chrysler merged with Daimler-Benz and again with Fiat in 2014, resulting in the latest branding as Fiat Chrysler Automobiles. Chrysler has long been renowned for Chrysler parts innovations such as six-cylinder engines, and the Mopar parts division, which consistently is the epitome of luxury, durability, and peak performance in the auto industry.
The Chrysler 300, is a remarkable luxury full-size sedan, known for its bold design and hefty engine choices. The Chrysler Pacifica has been a revolutionary player in the minivan market with its cutting edge features, spacious interiors, and even a hybrid variant perfect for eco minded families. The Chrysler 200 has been an important part of the midsize sedan market with stylish appearance. And the Chrysler Town & Country, was synonymous with family outings, by offering unparalleled versatility, and integral features. Models such as these further emphasize Chrysler's blend of evocative styling, and smart minded practicality.
Chrysler has long been emphasizing rigorous innovation, as well as unrivaled efficiency in its drivetrain solutions. The Chrysler Pacifica, has a plug-in hybrid powertrain that combines a 3.6L Pentastar V6 with an electric motor, delivering 260 horsepower, at a range of 32 Miles all-electric, and a total range of 500 miles. Non-hybrid pacifica variants employ a 3.6L V6 engine at 287 horsepower, and 262 lb-ft of torque. These engines when paired with Chrysler parts such as the refined 9-speed automatic transmission ensure seamless shifting and highly optimized fuel efficiency. Chrysler's unwavering focus on Chrysler parts, like drivetrains such as these, have underscored their undying commitment to blending performance with eco-conscious choices catering to every modern family's needs.
In terms of quality, OEM Chrysler parts are the wise choice for Chrysler owners who want to keep their vehicles at peak performance. They are manufactured to follow official strict factory specifications and are made in world-class facilities. They undergo rigorous tests to ensure that they are durable and safe to use. Should you require brand new OEM Chrysler parts, MoparPartsGiant is an excellent option that won't let you down. We offer an extensive range of genuine Chrysler parts, from radiators to steering wheels, all at the most competitive prices in the market. Moreover, all our parts come with a manufacturer's warranty and are delivered at the fastest possible speed. Shop MoparPartsGiant today!