Shop Genuine Jeep Parts with MoparPartsGiant.com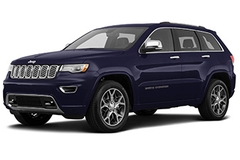 Jeep was created to serve the U.S. Army in World War II. Jeep, now a stellantis brand, has evolved over the years into an iconic American brand symbolizing tenacious four-wheel-drive capability. Ever since the beginning, Jeep designs have combined elements from Bantam, Ford, and Willys-Overland. Jeep has been a pioneer in the compact SUV market, known for its performance, reliable Jeep parts, involvement in military campaigns, farming and off-road transportation. Jeep's are renowned for their durability and adaptability. Jeep is a standout auto brand, known not just for its vehicles but also for its genuine Jeep parts, deploying advanced interiors, athletic exteriors, and many accessories to fit many different kinds of lifestyles.
The Jeep Wrangler is an emblematic part of the brand's history, celebrated for its unmatched off-roading abilities, and its distinctly rugged design. The Jeep Gladiator has become recognized for melding the adventurous spirit of other models with the practicality of a pickup. The Jeep Grand Cherokee, has elevated Jeeps luxury midsize SUV offerings, by blending high comfort with off-road might. The Jeep Renegade offers urban drivers a smaller, city friendly Jeep experience, while still keeping the core Jeep spirit the brand has been known for. Models like these demonstrate Jeeps unwavering commitment to versatility and exploration, whether it be off-roading, or in urban environments.
Jeep has been a forerunner in innovation, by integrating both performance and efficiency in its cars and genuine Jeep parts. The 2021 Jeep Wrangler 4xe, is a standout with its plug-in hybrid system, which pairs a 2.0L turbocharged inline-four engine with two electric motors, which offers the convenience of both fully electric and hybrid driving modes at 375 horsepower and 470 lb-ft of Torque. The Jeep Grand Cherkokee enjoys a 3.6L Pentastar V6 and a more potent 5.7L V8, which delivers mighty performance for off-roading or daily drivers alike. Both Jeep engines are combined with an 8-speed automatic transmission, which offers smooth gear transitioning, while enjoying improved fuel efficiency. Advancements such as these illustrate Jeep's unstoppable commitment to blending their vehicles traditional rugged capabilities, with modern technology and sustainability.
To achieve maximum perfection, OEM Jeep parts are manufactured and tested in accordance with Jeep's official factory standards. Obtaining Jeep parts from MoparPartsGiant would be your wisest choice. We carry a huge selection of genuine Jeep parts at the lowest prices. You would save a lot of trouble and money as all OEM parts are backed by the manufacturer's warranty. Shop MoparPartsGiant today!