Diagram (1 of 1): STEERING COLUMN, STEERING, TILT (RELEASE HOUSING) D-BODY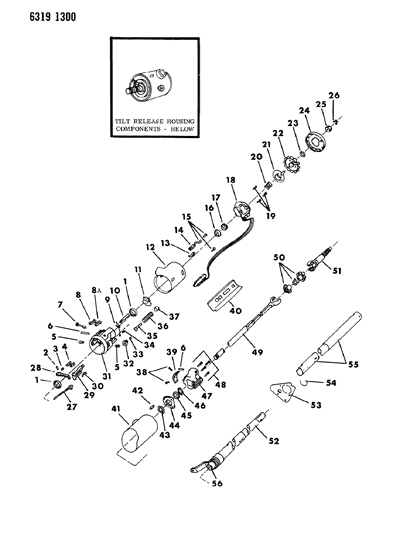 Enlarge Diagram
Part No. & Part Description
Price
Part No. &
Part Description
2880259

PIN, Release Lever
3467389

SHOE, Strg. Wheel Lock
3467419

SHIELD, Tilt Lever Opening
4219046

COVER, Lock Housing-(painted)
3467814

SCREW, Binding Head
3575981

SPRING, Upper Bearing
25

6500906

NUT, Strg. Wheel Shaft
4088151

ACTUATOR, Ignition Switch
3575220

LEVER, Shoe Release
3467391

SPRING, Rack Preload
4333084

HOUSING, Steering Column
3467385

SCREW, Hex. Washer Head
3467402

SCREW, Cross Recess
4188527

TROUGH, Steering Column Wiring
2880284

SPRING, Shift Lever
3467415

RING, Shift Tube Retaining
4333089

SUPPORT, Strg. Column Brg. Hsg.
4219039

SHAFT, Lower Steering
4147051

JACKET, Steering Column
4115894

SPACER, Upper Steering Shaft
4219046

COVER and SCREW PACKAGE, Lock Housing
6015925

RETAINER, Strg. Column Wiring Trough
9428682

SCREW, Lens Retaining Mounting Bracket
4219041

SCREW, Pan Head Cross Recess
Genuine Mopar Parts, the Right Choice
MoparPartsGiant.com offers the wholesale prices for genuine 1987
Dodge W350 parts
. Parts like Column, Steering, Tilt (Release Housing) are shipped directly from authorized Mopar dealers and backed by the manufacturer's warranty. Parts fit for the following vehicle options. Engine: 6 Cyl 3.7L, 8 Cyl 5.2L, 8 Cyl 5.9L. Transmission: 4-Speed Manual Transmission, Automatic Transmission.